In-home care for seniors is becoming increasingly popular these days among seniors as these services improve their quality of life and allow them to age in the comfort of their own homes.
In-home care for seniors assistant provides all the required live-in care to elderly people and enables them to perform their everyday tasks with ease. Home care for seniors simply includes any professional support service that allows older people to live safely and comfortably in their own residences.
Elderly people usually face a variety of challenges as they age, the majority of these problems can be mitigated with the help of professional in-home caregivers who provide high-quality senior home care. Home care services are of numerous types and range extensively depending on the requirements of seniors.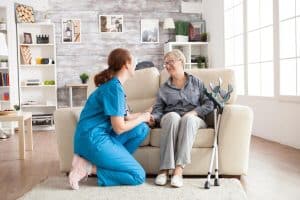 These services generally include:
All these coordinated services enable elderly citizens to live alone and independently within their homes. There are several advantages of elderly home care for seniors, which generally include: peace of mind for both the elderly person and their family, personal comfort in a familiar environment, and cost-effectiveness. Here are a few more reasons why you should consider home care for your loved ones.
1. Independence:
Loss of independence is a major concern for elderly people as they become unable to do their everyday tasks as they age. A huge advantage of home care for seniors is that they enable your loved ones to keep control over many aspects of their daily life.
Through this coordinated assistance, senior citizens get to continue living by their own schedule and can choose when they want to eat, sleep, and socialize. Moreover,  for people who no longer drive, a caregiver can help them run errands, and get to medical appointments, or social activities as well.
By providing ongoing personal care, in-home caregivers help aging individuals to continue living comfortably, safely, and socially at home. A little extra support is all that's needed to extend an older individual's sense of independence and improve his quality of life. These services also improve the outlook of aged citizens and boost their self-confidence.
Moreover, the majority of older adults are comforted by remaining in familiar surroundings where they have spent much of their lives. That's why the primary goal of in-home care for seniors is to support aging in place and delay or prevent the move or dependency to a long-term care facility.
2. Companionship and Social Opportunities:
Aged people are generally unable to keep up with their social connections. A lot of elderly individuals live alone and have trouble getting around, lose their driving privileges, or do not have friends and family living nearby.
This can make them feel even more isolated; therefore, companion care provides such people with invaluable social interaction. This could be something as simple as going for walks, conversing over coffee, or cooking or gardening together.
In the process of doing their job, caregivers provide emotional support to elderly people by staving off their loneliness and depression.
3. Safe Transportation:
Generally, the majority of senior adults become unsafe drivers as they age or give up their car keys. This limits their independence severely and affects their ability to complete everyday tasks, such as running errands, going to the places they love, or visiting family and friends.
An in-home caregiver can transport and accompany such individuals to grocery stores, meetings, medical appointments, social events, etc, and can restore their independence.
Such assistance can also expand a senior's world outside of their home and significantly help them remain mentally and physically active.
4. Oversight of Daily Life:
Professional caregivers keep an eye on elderly citizens, note their vital signs, and detect changes in their medical condition, such as sudden weight loss, refusal to eat, medication mismanagement, or fluctuations in reasoning or memory.
Therefore, in-home care for seniors accountability can make a significant difference in preventing health complications and accidents, particularly in situations where an older individual finds difficulty communicating or remembering things.
Professional in-home care for seniors aides is specifically trained to notice subtle cues which indicate that a senior's mental or physical condition has changed and act accordingly to manage the situation.
5. Good Nutrition:
Elderly people should never take their nutrition and the value of meal preparation services for granted. Because of difficulty while preparing meals, many seniors rely on frozen dinners, fast food, and other low-value, ready-made foods for nutrition which impact their health in a negative way.
On the other hand, in-home caregivers can provide nutrient-rich and fresh foods to such individuals that support their optimal health and higher energy levels.
Moreover, certain age-related conditions can make it more challenging for seniors to age in place comfortably and safely. Whether elderly people are living with dementia or are recovering from a stroke, they can still trust professional live-in caregivers in order to enhance their quality of life.
6. Safety:
An in-home caregiver can also assess senior citizens' physical and mental capabilities by spending time with them. If anything happens the caregiver can alert friends or family members promptly, which can reduce the chances of severe health complications. Caregivers, if present in event of emergencies, can also seek immediate medical intervention if required.
7. Enhanced Quality Of Life:
In-home caregivers offer mental and emotional stimulation to elderly people by providing them with a chance to share their thoughts, feelings, and memories. Caregivers usually also engage older individuals in several activities particularly designed to boost their cognitive health.
FAQ's:
What are the different types of in-home care assistance?
Generally, in-home care for seniors is classified into four common care environments, which include assisted living facilities, home health care, nursing homes, and adult daycare centers.
The common services that homecare assistance provides mainly include skilled nursing care, as well as other skilled care services, like occupational or physical therapy, speech-language therapy, and other medical services. These services are given by a variety of professional healthcare aides to seniors within their own residences.
How much do in-home care agencies charge?
Typically, the average costs of in-home care for seniors assistant range between $20 to $30 per hour, but these rates depend on a huge range of variables. If you want to know how much in-home caregivers cost, try to determine which care solution you particularly need, and then contact in-home care agencies for an accurate quote.