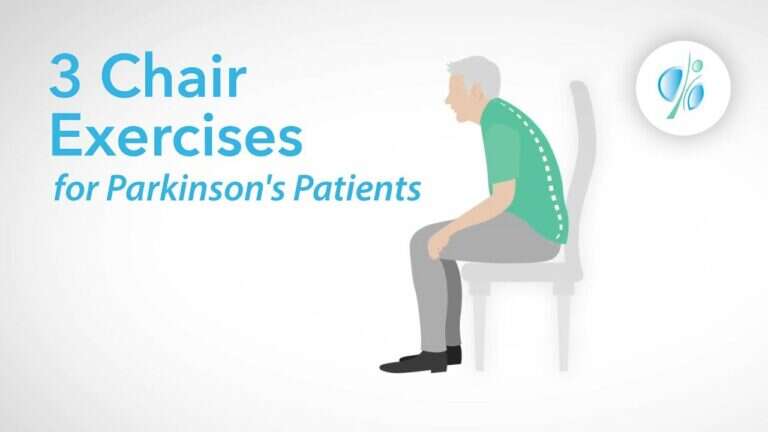 Exercises for Parkinson's
Exercises for Parkinson's patients are designed to help counter the forward slumped posture and rigidity that develops as the disease progresses. Through physical therapy and home care, patients are able to regain their mobility and live fuller lives.
Chair exercises for Parkinson's patients can be performed in an outpatient therapy center, and even within their own home. Are you or loved one looking to improve your range of motion, balance, and overall posture? Here are three sitting exercises for Parkinson's to perform in the comfort of your own home:
Chair Exercise 1
Improve posture in patients living with Parkinson's.
Sit in a stable chair with your back against the base.
Lean forward and reach with your hands toward your feet out in front of you.
Quickly and with high energy, pull back into your original seating position with your back flat against the chair.
Repeat several times.
Chair Exercise 2
Regain rotation of the trunk to counter the effects of Parkinson's disease.
Sit comfortably in a stable chair and place feet shoulder-width apart.
Place your hands out in front of you, with both palms touching.
Take one arm and stretch out to your side, leaving the other hand at the center. Be sure to extend your arm with your fingertips are engaged, so you can obtain maximum efficiency.
Quickly and with high energy, bring your stretched arm back to the center and smack the palms of your hands.
Repeat these motions several times on both hands.
Chair Exercise 3
Strengthen a Parkinson's patient's mobility and balance.
Sit at the edge of your chair and place feet comfortably out in front of you.
With one hand, reach to your side at the base of your ankles.
With your other hand, reach up toward the ceiling and tenuate, or look at your hands, arms, and fingers as you perform the motions.
Then, with the arm toward the ceiling, bringing it down to meet your lower hand to the sides of your ankles.
Read this motion on both arms several times.
Mind & Mobility Home Care Centers offers physical therapy to prescribe specific exercises for Parkinson's disease, Alzheimer's disease, and other diagnoses to help aging adults regain their mobility and independence. Physical therapy is offered both in-home and at our outpatient centers in Fort Lauderdale, Boca Raton, and Palm Beach.
To learn more about our services, schedule a free consultation with a healthcare professional here.
Our Medicare therapy services can assist you in your home or in one of our outpatient clinics depending on your area and your needs. Our company is well known throughout Florida for specializing in working with Parkinson's patients, but we work with many neurological conditions including ALS, Multiple Sclerosis, Strokes, and more.
Through Medicare part B, we are able to offer PT-prescribed exercises for Parkinson's to you or your loved one in the place that fits you best. Services typically range from 6-8 weeks depending on patient's needs, therapy goals, and Medicare guidelines.
Areas We Serve: Home Care Services
Tags: home care, physical therapy, parkinsons disease, coping with parkinsons disease, chair exercises, sitting exercises, chair exercises for parkinsons, in home therapy, parkinsons care